Oral restrictions or tethered oral tissues most frequently occur in the frenula of the tongue and lips, and at times in the buccal (cheek) areas. If a frenum is restricted, this can lead to an imbalance of the orofacial muscles or orofacial myofunctional disorder (OMD).
These restrictions can be released with surgery and are recommended to be done after completing approximately 5 weeks of myofunctional therapy (patient dependant), followed by stretches and post-care myofunctional exercises. In the case of babies, stretches are recommended in conjunction with breastfeeding.
Ankyloglossia, or tongue-tie, is a congenital anomaly which may result in a short, thick, or tight band of tissue which restricts tongue movement and inhibits proper function.
Most cases of ankyloglossia are sporadic but can also be due to mutations in the T box transcription factor TBX22.1 Sometimes, tongue ties are hard to detect as they are submucosal or posterior.
A labial frenum is a piece of tissue connecting the lips to the upper maxillary gingival tissue. In some cases, if it is too tight, or connects too far down into the area behind the upper central incisors and incisive papilla. It can affect proper latch during breastfeeding as well as cause a diastema (gap) between the two central upper teeth. It may also make it difficult to close the lips.2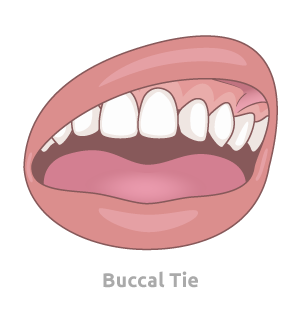 A buccal tie/frenum is a piece of tissue connecting the inside of the cheeks to the gums that is too restrictive.
We are accepting new patients!
Langley Office
#201-19640 64 Ave.
Langley, BC  V2Y 1H3
(604) 703-9365
Chilliwack Office
#3-5640 Vedder Rd.
Chilliwack, BC  V2R 3M7
(604) 703-9365